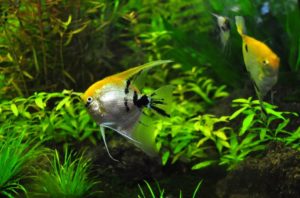 For aquarium owners, one of the most challenging factors to consider while going away for a vacation is how your aquarium will be taken care of without you. Of course, you cannot just leave your fishes without something to eat or someone to look over them while you are away. Always remember that fish aquariums need some tender loving care all the time.
So, before you go on a holiday or out-of-town trip, always make sure that your pet fishes stay healthy, comfortable and happy. You would not want them to be weak, get sick, or worse, die while you are out on vacation.
To those who are planning for a holiday or out-of-town trip, here are some simple tips on how to keep your pet fishes from dying and how to maintain the cleanliness and safety of your coffee table aquarium while you're away:
Good Planning
If every day, we consciously plan what to do, what activities should come first, and where to go, what more when we're going on a holiday trip? Will you go for just an overnight trip or will your trip last for a couple of days? Details like these are important to consider especially if you're leaving behind your aquarium. How many food will you leave for your fishes? How many times should the aquarium be cleaned? These will be dependent on how long you'll be away from your pets.
It is always smart to plan these things before you leave so that you can prepare all the necessary things needed for your aquarium to be maintained and for your fishes to stay alive. By having a good plan, you are assured that your fishes are safe and in good condition even though you are far away.
Calculating the Risks
There are always risks in leaving an aquarium for days or weeks. They might get sick, be malnourished or die before you get back. To minimize and prevent the realization of these risks, you must calculate the possibilities. A lot of times, it depends on the kind of fish you have. Some fishes are low maintenance, while other fishes require daily attention. If you have an expensive and rare fish, you must properly plan for it to be taken care of while you are away.
Plan and Prepare the Food of Your Fish
Every type of fish has its own diet. Before you leave for a trip, make sure that the kind and amount of food you will leave for your fish is the right one for their kind.
For example, if you have a carnivorous fish, you should prepare a diet of carnivore pellets or another living thing. Always remember that a carnivorous fish is similar with a "predator" fish.
Meanwhile, if a fish is an omnivore,  you can leave plant and animal-based pellets for them to eat.  You can also feed them food blocks, a mineral based food which can be gradually mixed into the water tank for the food to last longer.
If you have herbivore fish, fresh vegetables or plan-based pellets for them. Make sure that you leave an ample amount of food for them until you come back from your trip.
Choose the Best Care Arrangement of your Aquarium
There are different ways to feed your fish in your absence. Here are some options you can choose from:
Feeder Blocks. Before you leave, put the feeder block at the bottom of the tank. One block can usually last up to 5-7 days. You can buy this at your local fish store. Choose the food block suitable for the kind of fish you have. Also, it is advisable to try feeding your fish a small block of feeder one week before you leave. This way, you can check if your fish eats it as some fishes do not like this feeder blocks.
Vacation Feeder. This is the usual practice for aquarium owners who leave for trips or vacations. It's very easy to install. You just fill the feeder with fish food, and it will automatically release the food towards the tank based on the schedule that you have it programmed. This, however, has some limitations. This can only be applied to fish that eat flakes or pellets. Also, it needs to be constantly connected to an outlet. In a case of energy blackout, this vacation feeder will not work.
Human Care of Your Tank
The best way to take good care of your aquarium while you're away is to have someone look after it while you're gone. Ask a neighbor, a friend, a family member or anyone you trust to do the task and always check how they're doing to make sure that they are healthy, safe and alive upon your return from your vacation.